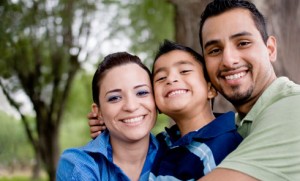 Project Access San Diego is the Champions for Health's flagship program, providing access to specialty care to restore health to low-income, uninsured individuals in need of specialty medical care. The network of physicians, hospitals, surgery centers, and healthcare service partners provide a full-range of healthcare services at no cost to qualifying San Diego County residents. We coordinate specialty care consultations and procedures with the physician's office, as well as surgeries and procedures conducted at hospitals and outpatient surgery centers.
"Before Project Access, I often had no resources for my uninsured patients.  There was nowhere to turn for help.  Now I know I can provide the care my patients need, thanks to the generous support of specialists throughout the community that volunteer with Project Access."    James Schultz, MD, Medical Director, Neighborhood Healthcare, Council of Community Clinics, & Project Access San Diego
By addressing the healthcare needs of our community's most vulnerable, Project Access San Diego prevents the potential development of life-threatening or chronic medical conditions to the uninsured. The care provided also reduces the strain on hospital emergency departments and other community healthcare centers. Project Access patients report significant improvement in their health status after receiving care.
The Project Access San Diego network includes:
more than 80 referring community clinics
more than 625 medical professionals who volunteer to provide pro bono care
10 hospitals
14 outpatient surgical centers
Ancillary health services including imaging, labs, medical equipment, physical therapy, and more
Physician volunteers report high satisfaction with Project Access San Diego because of our care management system. Care begins when a primary care provider at a community health centers refer a patient to Project Access. The case is reviewed by the Chief Medical Officer, and a Patient Care Manager becomes the main contact for the patient referral.
Once approved, the Patient Care Manager provides the patient with one-on-one assistance, navigation through the specialty care process, and ensuring the patient receives necessary testing, imaging and other services prior to their appointments. Patient Care Managers also assist patients with their treatment plan, transportation and medical interpretation services.
Referring Patients
Community health centers and primary care physicians caring for the uninsured can refer their patients to Project Access for necessary specialty care.  Champions for Health's Chief Medical Officer reviews referrals to ensure physicians assist those most in-need. Please note our Referral Guidelines. All referral forms must be completed by the primary care provider site, and patients must be at least 18 years of age.  Resources for some specialties may be limited, and wait times for specialty care appointments vary.  Approximately 30% of patients referred require a surgery or procedure performed outside the specialty physician's office.  These are done either at a community hospital or outpatient surgery center.
To refer a patient, the medical provider should complete the Patient Referral Form, assure that the patient/family completes the Enrollment Form, and submit the forms along with relevant medical history via our HIPAA-compliant fax — 858.560.0179.
Program History
The Project Access model started in Asheville, Buncombe County, North Carolina in 1996. The physicians of the Buncombe County Medical Society realized the need for full healthcare access for all low-income, uninsured residents of the community. Using the public commitment of physicians to treat low-income, uninsured residents became a leveraging tool to obtain commitments from others in the community. There are now nearly 100 Access-type volunteer physician programs around the country, each adapted to fit that community's distinct needs.